Conserve Water: Plant California Natives
---
Australian, South African Natives Pair Well With California Native Plants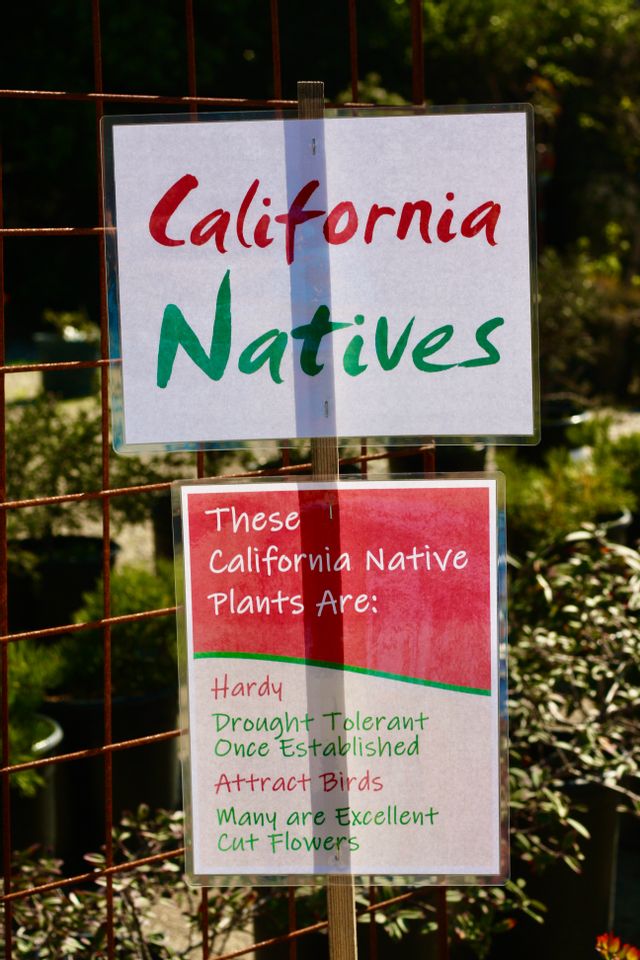 At a time when we are all concerned about overusing our precious natural resources, many of us are thinking about how to use less water in our gardens, and yet, still be able to have a gorgeous garden with colorful blooms.
California Native Plants give gardeners the opportunity to do just that: Save water AND have nearly year-round color.  
Our Garden Design Experts can help you select the mix of plants that can achieve a beautiful garden that uses very little water.
We stock water-efficient plants, including California Natives, which you will find in two special locations in the garden center: One-gallon containers can be found alongside our building, along with equally waterwise Native Plants from Australia and South Africa. Larger California Native Plants can be found in larger containers beyond the shade house and near the Palms and Boxwoods. You may also find a few in other places, too.
The beauty is that once these Native Plants are established, "you want to give them what they would want in nature; you want to mimic the environment they would exist in, and that translates into minimal summer watering," says Cathy Hough, general manager of the Marina del Rey Garden Center. "Native plants are the perfect efficient landscaper." 
Some of the one-gallon plants in stock now include:
Salvia apiana var. compacta (aka Compact White Sage)
Salvia 'Dara's Choice' (a hardy groundcover in a vibrant green with lovely blue flowers)
Catalina Currant Ribes viburnifolium (Santa Catalina Island Currant, from the gooseberry family)
Achillea millefolium 'Sonoma Coast' (White Yarrow)
Salvia 'Allen Chickering' Sage (Amazing fragrance; tolerates most any soil)
Ceanothus maritime 'Point Sierra' (A slow-growing, long-lived groundcover from San Luis Obispo County)
Ceanothus gloriosus 'Anchor Bay' creeper (aka Point Reyes Ceanothus)
Lotus crassifolius var. Otayensis (Excellent butterfly plant. Thrives in poor soils. Soft grey foliage with purple and white pea flowers in spring and summer.) 
Ceanothus Maritimus 'Popcorn' (A special white-flowered form of a very rare species from Hearst Castle in San Luis Obispo County. Rugged groundcover, excellent for parkway strips and drier borders.)